Comté Tuiles with Asparagus & Prosciutto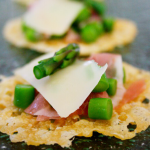 4 ounces Comté, plus additional for shaving
2 tablespoons fresh lemon juice
1 garlic clove, peeled and smashed
Salt and freshly ground black pepper
12 thin asparagus spears, woody ends discarded
2 ounces thinly sliced prosciutto
3 tablespoons good quality extra virgin olive oil
Preheat the oven to 300˚F. Line a large baking sheet with parchment paper.
Shred the Comté on the small holes of a box grater. Divide the Comté into 12 piles on the prepared baking sheet, leaving at least 1-2 inches between each (you may need to do this in batches if your baking sheet isn't large enough). Using your fingers, pat the cheese into thin, 2-inch circles. Bake 20 minutes, until light golden and crisp. Transfer tuiles to a cooling rack and cool completely.
In a small bowl, combine the lemon juice, garlic clove and a pinch of salt and pepper. Let sit while assembling salad.
Blanch the asparagus in a pot of boiling, salted water until crisp-tender, 1-2 minutes. Transfer to an ice bath to cool. Remove and pat dry. Slice the asparagus into ¼-inch rounds, reserving tips. Cut the prosciutto into small pieces.
Combine the sliced asparagus and prosciutto in a small bowl. Whisk the extra virgin olive oil into the lemon juice. Pour a little bit of the dressing over the salad and toss to coat (you will have leftover dressing; save for another use). Season with salt and pepper to taste.
Transfer the tuiles to a platter or to serving plates. Spoon some of the asparagus and prosciutto salad over each. Using a vegetable peeler, shave a piece of Comté over top, and finish with an asparagus tip. Serve!
Bon appétit!
Recipe by
Comte USA
at https://comte-usa.com/comte-tuiles-with-asparagus-prosciutto/