Comté & Tomato Gratin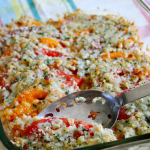 Olive oil for dish
4 ounces Comté, shredded (about 1 cup, packed)
½ cup fresh breadcrumbs (preferably from a day-old baguette)
1 tablespoon minced fresh parsley
1 teaspoon minced fresh thyme
1 small garlic clove, minced
Salt and freshly ground black pepper
2 pounds tomatoes, cored and sliced ¼inch thick
Preheat the oven to 500°F. Coat a 9x13inch baking dish lightly with olive oil.
In a small bowl, toss together the Comté, breadcrumbs, parsley, thyme, garlic and a pinch of salt and pepper.
Layer the tomato slices in the baking dish, overlapping them slightly. Season with salt and pepper. Sprinkle the Comté topping evenly over the tomatoes.
Bake 10 minutes, or until the topping is light golden. Serve warm or at room temperature.
Bon appétit!