Comté Wafers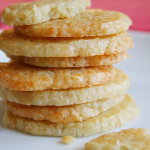 1 stick unsalted butter, softened
½ pound Comté, shredded (about 3 heaping cups shredded)
1 cup all-purpose flour
1 teaspoon salt
Pinch cayenne pepper
1-2 teaspoons water
In a large bowl or in the bowl of a stand mixer with the paddle attachment, beat together the softened butter and shredded Comté. In a small bowl, whisk together the flour, salt and cayenne. Stir the dry ingredients into the cheese mixture and mix until well combined. Add 1-2 teaspoons of water, just until the dough holds together when pressed in the palm of the hand.
Shape the dough into a large roll, about 9-10 inches long. Wrap with plastic wrap and refrigerate 1 hour and up to 48 hours.
Preheat the oven to 35 F. Line a baking sheet with parchment paper.
Slice the dough into ¼-inch thick wafers and line them on the prepared baking sheet. Bake on the middle rack for 15-17 minutes, or until light golden around the edges. Transfer to a rack to cool. Serve or freeze for up to 1 month (defrost at room temperature or in a toaster oven before serving).