Comté, Cranberry & Apple Stuffing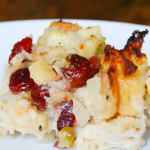 1 1-pound loaf rustic Italian bread, torn into ½-inch pieces
4 tablespoons butter
1 medium onion, diced
2 ribs celery, diced
1 teaspoon salt
½ teaspoon pepper
1 Granny Smith apple, peeled and diced
1 teaspoon chopped fresh rosemary
1 teaspoon chopped fresh thyme
1 teaspoon chopped fresh sage
½ cup dried cranberries
6 ounces Comté, shredded (3 scant loosely packed cups)
2 cups low-sodium chicken, turkey or vegetable broth
1 beaten egg
Preheat the oven to 275°F. Put the bread pieces on a large baking sheet and bake 20 minutes, or until crisp. Transfer to a large bowl.
Increase the oven temperature to 350°F. Butter a 9x13-inch casserole dish.
Melt the butter in a large skillet over medium heat. Add the onions and celery with the salt and pepper. Cook, stirring occasionally, 5 minutes. Add the diced apple and continue to cook until the onions are translucent and the apples are tender, about 5 minutes longer. Stir in the rosemary, thyme, sage and cranberries; cook 1 minute. Transfer to the bowl with the toasted bread. Stir in the stock and beaten egg and mix well. Fold in the shredded Comté.
Transfer the stuffing mixture to the prepared casserole dish and bake 30-35 minutes, or until golden brown on top.
Recipe by
Comte USA
at https://comte-usa.com/comte-cranberry-apple-stuffing/