Comté, Caramelized Onion & Tomato Tarts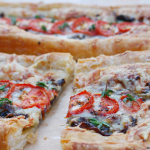 1 ½ tablespoons butter
2 medium red onions, thinly sliced
Pinch sugar
Salt and pepper
1 tablespoon water, plus additional for brushing pastry
1 teaspoon chopped fresh thyme, plus additional for serving
1 sheet frozen all-butter puff pastry, thawed
2 teaspoons Dijon mustard
2 cups (loosely packed) shredded Comté (4-6 ounces)
2 plum tomatoes, very thinly sliced
Preheat the oven to 400˚F with a rack in the upper third of the oven. Line a large baking sheet with parchment paper.
Melt the butter in a large skillet and add the onions with a pinch of sugar, salt and pepper. Cook over medium heat until caramelized and golden, about 15 minutes. Add water and scrape up any bits from the bottom of the pan; cook until water is absorbed. Add thyme and transfer to a bowl.
On a lightly floured surface, roll out pastry into a large rectangle, roughly 16 by 13 inches. Cut in half lengthwise. Transfer both pieces to the prepared baking sheet. Brush edges with water and fold over to form a ½ inch border. Using the back of a fork, press edges to seal. Prick holes in the bottom of the tart (not on edges) with the fork.
Brush the bottom of each tart with 1 teaspoon Dijon mustard. Divide the caramelized onions among each tart, followed by the shredded Comté. Arrange slices of tomato in an overlapping line down the center of each. Sprinkle with salt and pepper to taste.
Bake in the upper third of the oven for 22-25 minutes, or until golden. Cool slightly and sprinkle thyme leaves over the top to garnish. Serve warm or at room temperature.
Bon appétit!
Recipe by
Comte USA
at https://comte-usa.com/comte-caramelized-onion-tomato-tarts/