Philly-style Comté Cheesesteak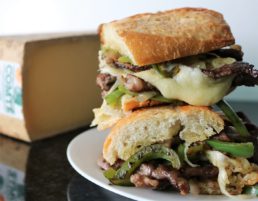 Author:
Erin Harris www.thecheesepoet.ca @thecheesepoet
6 oz. 12-month aged Comté Cheese, rind removed and grated
2 6-inch hoagie rolls
1 small sweet onion, trimmed and sliced
1 green pepper, trimmed and sliced
12 oz. boneless Ribeye steak, thinly sliced
2 tbsp olive oil
¼ cup mayonnaise (optional)
Salt and pepper to taste
Prepare all of the ingredients and turn the broiler on to toast: Freeze the steak for 30-40 minutes prior to slicing. Once the meat is semi-frozen, use a sharp knife to cut the steak very thinly. This will help create a tender cheesesteak. Season the steak with salt and pepper to taste. Slice the hoagie rolls in half horizontally, cutting ¾ of the way through, leaving the top and bottom attached. Slice the onions and peppers, and grate the cheese. Set aside.
Place a cast-iron pan on the stove over high heat. Add the oil to the pan and once smoking hot, add the seasoned steak and quickly sear the meat, allowing it to caramelize before turning. Transfer the cooked meat to a plate and set aside.
With the cast-iron pan back on high heat, add the onions and peppers. Stir in the pan until they begin to caramelize and soften, about 2-3 minutes. Turn off the heat, add the steak back to the pan and toss with the onions and peppers. Top the mixture with the Comté cheese, and place a lid or tinfoil over the mixture to allow the cheese to gently melt from the residual heat from the pan, about 2-3 minutes.
Divide the mayonnaise between the two hoagie buns and spread to coat both sides. Place the buns cut side up under the broiler for 2 minutes or until lightly toasted. Remove from the broiler and divide the steak mixture between the two hoagies. Enjoy!
Recipe by
Comte USA
at https://comte-usa.com/philly-style-comte-cheesesteak/