Fried Comté Sticks with Sauce Gribiche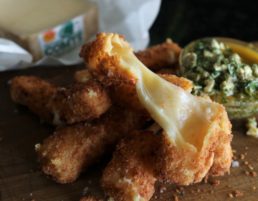 Author:
Erin Harris www.thecheesepoet.ca @thecheesepoet
1 lb. 9-month aged Comté cheese, rind removed
1 cup seasoned breadcrumbs
½ cup flour
2 eggs
1 quart neutral oil for frying (canola or vegetable oil work well)
Kosher salt to taste
1 large egg, hard boiled and chilled
¼ cup extra-virgin olive oil
2 tsp Dijon mustard
1 tbsp lemon juice
6 cornichon pickles, drained
2 tbsp capers, drained
¼ cup packed mixed herbs, fresh parsley and tarragon
Kosher salt and pepper to taste
Cut the Comté into sticks approximately ½ -inch wide by 3-inch long. Place the sticks on a lined baking sheet and set up a breading station: place the flour, breadcrumbs, and eggs in 3 separate bowls big enough to work within. Whisk the eggs in the bowl until fully combined.
Take one Comté stick and roll it in the flour making sure to coat all sides. Next, roll the floured Comté in the egg mixture, again making sure all sides are coated. Finally, roll the Comté in the breadcrumbs. If necessary, roll again in the egg mixture and back into the breadcrumbs until an even layer has coated the cheese. Place on the lined baking tray and repeat these steps with all of the Comté. Place the cheese in the freezer for at least 1 hour, or until completely frozen. *do not skip this step or your cheese sticks will not fry properly*
Prepare the deep fryer: Place the oil in a 3-quart sauce pot over medium-high heat, and bring to 350°F. Use a thermometer to ensure the correct temperature for even frying.
Fry the cheese sticks 2-3 at a time, for about 2 minutes each or until golden brown. Keep a close eye and remove from the fryer if the cheese starts to ooze out! Transfer to paper towel to drain, and season with kosher salt while still hot. Ensure the oil is at the correct temperature and fry the remaining cheese sticks. Serve while still warm (If necessary, warm the cheese sticks in a hot oven for a few minutes before serving).
Cook the egg in boiling water for about 10 minutes, drain and cover with ice water to cool. Once completely cooled, peel the egg and remove the yolk, setting the white aside. In a bowl, mix together the yolk with the Dijon mustard. Drizzle in the olive oil and whisk together with the lemon juice.
Chop the egg white, cornichon, and capers into a fine dice. Roughly chop the fresh herbs and mix everything together into a sauce. Season with salt and pepper and set aside until ready to serve. The sauce can be made up to 1 day ahead and stored in the refrigerator.
Recipe by
Comte USA
at https://comte-usa.com/fried-comte-sticks-with-sauce-gribiche/