Comté and Herb Stuffed Roasted Summer Vegetables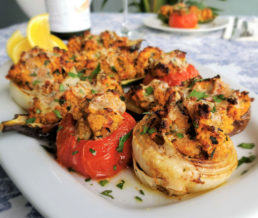 Author:
Erin Harris www.thecheesepoet.ca @thecheesepoet
2 small eggplants
2 small green or yellow zucchini
4 small vine-ripened tomatoes
1 small sweet white onion
¼ cup olive oil, plus more for garnish
1-2 cloves garlic, chopped
½ cup chopped mixed herbs (parsley, oregano, thyme, rosemary, basil)
2 cups day old bread, crusts removed, cubed
1 cup milk
Salt and pepper to taste
2 ½ ounces 12-month aged Comté cheese, rind removed and discarded
1 lemon, cut into wedges
Preheat the oven to 375˚f. Cut the eggplants and zucchini in half lengthwise. Remove the stem end and core of each tomato and discard. Remove the skin and root end of the onion and discard. Cut the onion in half horizontally.
Using a spoon, scoop out most of the flesh of the eggplants, zucchini, tomatoes, and onion, and place in a food processor along with the garlic. Leave enough of the flesh in each vegetable to hold their shape once roasted. Process the vegetable insides until chopped but not pureed.
Add 2 tablespoons of the olive oil to a baking sheet and arrange the vegetables in an even layer on the olive oil. Season with salt and pepper and place in the oven to roast for 20 minutes.
In a large sauté pan over medium-high heat, add 2 tablespoons of olive oil and the chopped vegetables, and sauté for 8-10 minutes, or until the vegetables are tender and most of the moisture has cooked out. Season with salt and pepper and set aside to cool.
In a mixing bowl, toss the bread with the milk and let sit for 10 minutes. Squeeze out any excess milk that the bread hasn't absorbed and discard. Using your fingers, break the bread into smaller shreds. Add the cooled vegetable mixture to the bread along with the fresh herbs and mix to combine. Shred the Comté cheese and add 2 ounces of the cheese to the bread mixture and combine. Reserve the extra ½ ounce of cheese for topping the stuffed vegetables.
Remove the roasted vegetables from the oven, and distribute the bread stuffing to each vegetable evenly, not pressing down too hard. Return the stuffed vegetables to the oven for another 10-15 minutes, or until the stuffing is completely warmed through, and the vegetables are cooked. Add the remaining Comté cheese to the tops of the vegetables and place back in the oven to gently melt the cheese – 2 or 3 minutes.
Transfer the vegetables to a serving platter and drizzle with olive oil and serve with lemon wedges.
Recipe by
Comte USA
at https://comte-usa.com/comte-and-herb-stuffed-roasted-summer-vegetables/