Comté and cherry turnovers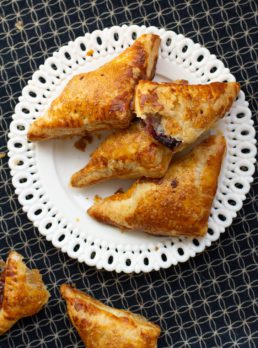 1, 14 oz sheet puff pastry
220 grams cherries or 1½ cups cherries, pitted
50 grams or ¼ cup sugar
1 tablespoons cornstarch
1 tablespoon lemon juice
pinch salt
1 egg plus 1 tablespoon water, lightly whisked together
75 grams or 2.75 ounces comté, shredded
1 teaspoon demerara or turbinado sugar for sprinkling
Defrost your puff pastry dough in the refrigerator for 3 to 24 hours before you're ready to make the turnovers.
To a small sauté pan, add the cherries, sugar, cornstarch, lemon juice, and salt. Over medium heat, stir cherries with a spatula or wooden spoon. After the fruit starts bubbling, turn heat to low and use the tip of your spatula to crush around half to two-thirds the cherries. Stir continuously, and cook for 3 to 5 more minutes more, or until the sauce thickens and the cherries have softened. Fresh cherries may need to cook longer.
Pour the cherries on a plate and spread them out. The filling needs to be cooled completely. Pop your plate in the freezer for around 15 to 20 minutes, or until chilled.
Once the cherries are chilled, lightly flour a clean kitchen counter. Remove your dough from the fridge and unfold gently onto the countertop. Roll out the dough enough to flatten the creases and create a rectangle around 12 x 12 inches. Cut the dough into nine equal squares.
Brush the outside ½ inch edges of each square with egg wash. Dividing the cherry filling equally, plop a heaped tablespoon of the filling in the center of each square. Top with equal amounts grated Comté.
Fold the top of each square over to form a triangle and press the edges of the triangle together, then crimp with a fork. Brush lightly with egg wash and prick the tops twice each with the tip of a fork. Sprinkle with demerara sugar. Lay the turnovers on two small sheet pans or large plates and let rest in the freezer for 30 minutes before baking.
Pre-heat oven to 400 degrees. Turning halfway, bake the turnovers for 30 minutes or until they become light brown. Let cool for 5 minutes before serving.
Recipe by
Comte USA
at https://comte-usa.com/comte-and-cherry-turnovers/