Butternut Squash and Comté Fritters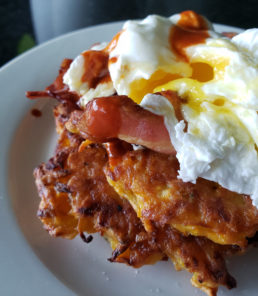 6 cups shredded Butternut squash (approximately 1 medium squash, peeled, seeded, and shredded)
1 cup flour
1 tsp kosher salt
½ tsp black pepper
3 eggs
5 oz Comté, rind removed and shredded
1 tsp fresh thyme, chopped
¼ tsp nutmeg
Vegetable oil for frying
In a large bowl, combine the shredded butternut squash, flour, salt, pepper, eggs, Comté cheese, thyme, and nutmeg, stirring until the mixture is combined. Line a cooling rack with paper towel and set aside.
Liberally coat the bottom of a large sauté pan with vegetable oil and place it over medium-high heat. Once the oil is hot, scoop 3-tablespoon mounds of the mixture into the pan, pressing them lightly into rounds and spacing them at least 2 inches apart. Cook each side for 3 – 3 ½ minutes or until golden brown and cooked through. Make sure your oil isn't too hot or the fritters will burn before they are fully cooked through. Repeat with the remaining squash mixture.
Transfer the fritters to the paper towel lined cooling rack and serve while still warm, or allow to cool fully before storing. These fritters freeze well, and are great re-warmed in a toaster oven.
Recipe by
Comte USA
at https://comte-usa.com/butternut-squash-and-comte-fritters/