Crab and Comté stuffed Mushroom Caps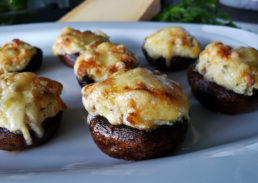 20 baby bella or large cremini mushrooms, cleaned and stems removed
3 tbsp olive oil
½ tsp salt
½ tsp black pepper
½ cup cream cheese
½ cup flaked crab meat, rinsed and drained well
¼ cup panko bread crumbs
1 cup shredded Comté cheese, divided
1 clove garlic, minced
2 tbsp parsley
Preheat oven to 400˚f.
In a medium bowl, toss the mushrooms with the olive oil, salt, and pepper. In a medium sauté pan over medium high heat, cook the mushrooms for 3-4 minutes on each side, making sure any excess liquid has completely evaporated.
On a parchment lined baking sheet, place the mushrooms bottom side up.
In a medium bowl, mix together the cream cheese, crab, bread crumbs, ½ cup Comté cheese, garlic, and parsley. Divide the mixture between all of the mushroom caps, mounding the filling evenly into each.
Top the mushrooms with the remaining ½ cup of Comté cheese, and bake in the oven for 8-10 minutes, or until completely warmed through and the cheese on top is melted and golden.
Transfer the stuffed mushrooms to a serving vessel and serve immediately.
This recipe can be made without the crab meat for a vegetarian crowd (add ¼ cup more cream cheese), or with smoked trout or lobster meat in place of the crab.
Recipe by
Comte USA
at https://comte-usa.com/crab-and-comte-stuffed-mushroom-caps/