Comté, Bacon and Artichoke Hearts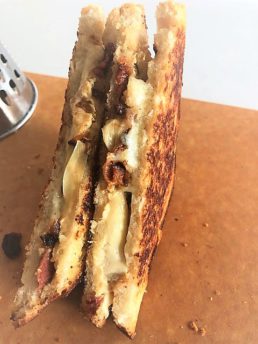 4 teaspoons Dijon mustard
2 teaspoons prepared horseradish
4 slices bacon, coarsely chopped
1 small onion (about ¼ pound), thinly sliced
8¼-inch thick slices sourdough bread
2 tablespoons olive oil (if using the stove top or outdoor grill method)
1 jar (6.5 ounces) marinated artichoke hearts, drained, each artichoke cut into thirds lengthwise (you should have about 8 artichoke hearts)
8 ounces Comté cheese, coarsely grated
In a small cup or bowl, mix together the mustard and horseradish.
In a large nonstick pan, cook the bacon until crisp. Drain bacon on a paper towel-lined plate. Remove all but 1 tablespoon of the bacon grease from the pan. Turn the heat to medium and add the onion. Cook the onions until limp and the edges are just beginning to brown, about 7 minutes. Add the onions to the plate with the bacon. Wipe out the pan but do not wash it.
Brush one side of each slice of bread with the olive oil. Place 4 slices of bread, oiled side down, on your work surface. Spread the mustard-horseradish mixture on the bread. Lay the artichoke hearts on the bread. Follow with the bacon, onion, and cheese. (You may have to press the cheese with your palm to make it fit) Top with the remaining bread, oiled side up.
Using the same pan you used to make the bacon, heat the pan over medium-high heat for 2 minutes.
Put the sandwiches into the pan, cover, and cook for 2 - 3 minutes or until the undersides are golden brown. Turn the sandwiches, pressing each one very firmly with a spatula to flatten slightly, and cover.
Cook for 2 - 3 minutes or until undersides are golden brown. Turn the sandwiches once more, press with the spatula again, cook for 30 seconds or until the underside is a half a shade darker.
Remove from the pan and let sit 5 minutes. Cut and serve.
Photo Credit: Laura Werlin
Recipe by
Comte USA
at https://comte-usa.com/comte-bacon-and-artichoke-hearts/