Comté & Leek Quiche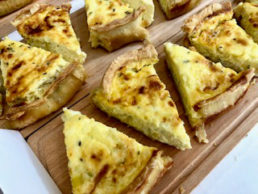 Author: Rachel Freier, Culture: the Word on Cheese
4 large eggs
2 cups heavy cream
¼ tsp salt
¼ tsp chopped fresh thyme (4 sprigs)
1 cup leeks (2 large stalks)
2 tbsp salted butter
2 cups Comté shredded
¼ tsp black pepper
8 oz cold butter
12 oz flour
½ cup ice water
5 grams salt
Shred Comté with a cheese grater.
Clean and slice white part of the leeks. Sauté in 2 tbsp salted butter until soft. Cool.
Chop fresh thyme.
Cut butter into half inch cubes.
Mix flour, salt and butter (important butter is cold) until crumbly and pea size.
Add cold water (not ice) slowly in a stream, pulse until incorporated into mixture. Dough will separate smoothly from side of bowl when ready.
Knead into a ball, cover with plastic wrap and let sit in refrigeration for minimum 1 hour.
Beat eggs, add heavy cream, salt, thyme and black pepper and mix well.
Add leeks and Comte to the mix and let sit for min 10 minutes.
Pe-heat oven to 375F
Roll out dough on a lightly floured surface to a 12 inch round.
Pick up dough and cover the bottom of the pie dish, pick up edges and hang over edge of dish, trim to edge. Chill 30 minutes.
You may freeze any left-over dough.
Cut out round of parchment paper to fit on dough in pie dish, add pie weights and
pre-bake pie bottom for 25 min, until slightly golden around the edges and dry in the middle.
Let cool for 15 min.
Lower oven temp to 325F
Add quiche mixture to the pre-baked pie dough, spread the filling at the bottom evenly across the pie with a spatula.
Place carefully on bottom oven rack not to spill and bake for 45-55min or until top is golden
and middle is slightly wobbly, this means you will have the desired custard texture.
Remove and cool for 1 hour to set.
Enjoy room temperature or warm.
Beverage pairing: Enjoy with a crisp French Cider such as Romilly Cidre Extra Brut
Recipe by
Comte USA
at https://comte-usa.com/comte-leek-quiche/